le testament de la tante caroline
ALBERT ROUSSEL | MARCH 2022 | LES FRIVOLITÉS PARISIENNES
As soon as you discover this little knownwork by Albert Roussel, which was criticised right from its inception, you'll wonder why it hasn't received the credit it so deserves. As he neared the end of his life, the composer decided to write an operetta in the style of André Messager, whose work was enjoying great success at the time. Ravel had tried his hand at this style with his Heure Espagnole, as had Jacques Ibert with Angélique and even Arthur Honegger with Les Aventures du Roi Pausole, a pleasant operette, even if he wasn't considered a comic dramatist.
Roussel followed in thesefootsteps, composing Le testament de la tante Caroline, a libretto rather like Puccini's Gianni Schicchi, but even more risqué. Critics disliked the piece, refusing to afford Roussel the relaxed approach needed to appreciate this light music. Removed from the repertoire before it could even be performed, the operetta fell into oblivion until, at the request of the composer'swidow, Marcel Mihalovici produced a new version in 1964 (this time shortened to just one act). It's this version that was presented and recorded in 2019 by the Les Frivolités Parisiennes, under the direction of Dylan Corlay, at the Théâtre de l'Athénée in Paris.
This world premiere recording sets the record straight, introducing us to a work that no doubt belongs in the repertoire from a time when France liked to laugh at its own depravity. Roussel's deep understanding of music composition creates a work that is clear, melodic and, to say the very least, absolutely exquisite. This dazzling discoveryis to the credit of a sparkling cast of young singer-actors. The protagonist is the larger-than-life character of Béatrice (Marie Lenormand), who is surrounded by her sisters Christine (Marion Gomar) and Noémie (Lucie Komitès). The husbands Ferdinand (Charles Mesrine) and Jobard (Aurélien Gasse) are funny and offbeat. The caricatured role of the notary, here Maître Corbeau, is played by the hilarious Till Fechner. The rest of the cast are equally fantastic, and the whole ensemble is taken to the next level under Dylan Corlay's cheerful and meticulous direction.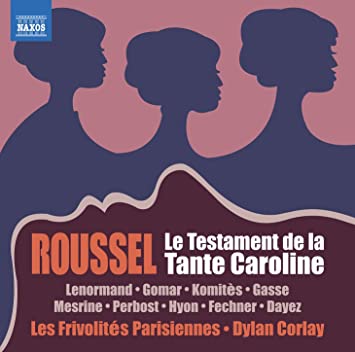 dominique lemaître
 

| 2020 | mémoires sonores
Works for Ensemble
L'ensemble Akantha
Artistic Director – Isabelle Chomet
Musical Director – Jérôme Polack
L'ensemble Accroche Note
Artistic Director – Armand Angster
L'ensemble Mémoires sonores
Artistic and musical director – François Veilhan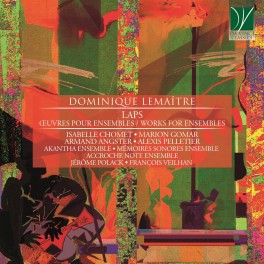 Direction jean sourisse
 

| november 2017 | syrius
Chœur d'Oratorio de Paris
Direction – Jean Sourisse
Piano – Lucie Seillet
Soprano – Anne-Aurore Cochet
Mezzo-soprano – Marion Gomar
Ténor – Kaëlig Boché
Basse – Daniel Pétrovitch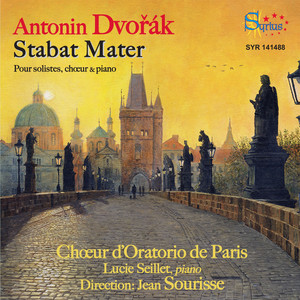 mel bonis – Work for Violin and Piano
Françoise Tillard | 2017 | Francine Trachier
This CD brings together all the works for violin and piano of the composer Mel Bonis, interpreted by Françoise Tillard on the piano and Francine Trachier on the violin.
Mel Bonis leaves an important work of about three hundred pieces. Most of it was composed between 1892 and 1914. His music, in a post-romantic style, is well inscribed in its time. It is very varied, ranging from drama to humor, often vigorous and sensual, with impressionist or orientalist changes of scenery, always very well written and very sensitive.
A single vocal piece in trio with Marion Gomar: Elève-toi mon âme, opus 22